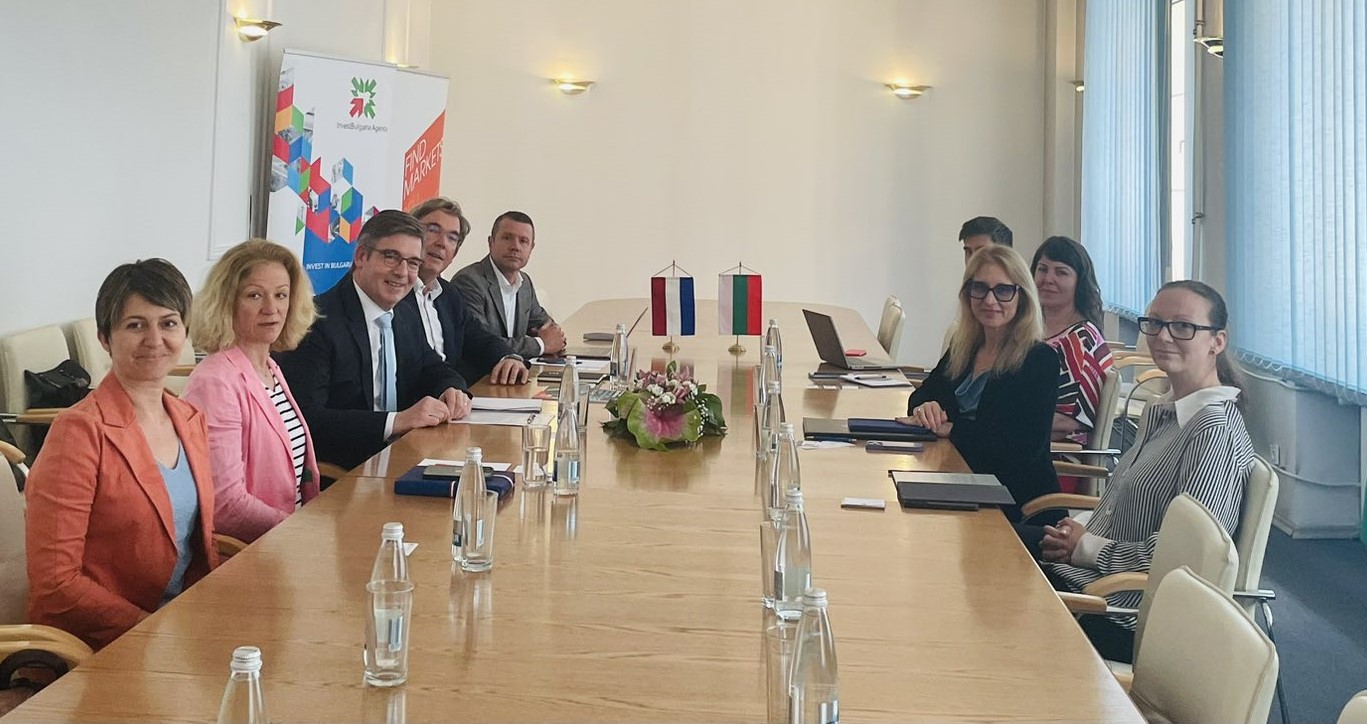 The Minister of Innovation and Growth Milena Stoycheva met with the Ambassador of the Kingdom of the Netherlands H.E. Simon van der Burg and with a business delegation from Eindhoven International Project Office (EIPO) – Eindhoven. The meeting was also attended by Peter Portheine, co-founder of EIPO, Joost Helms, partner in EIPO, adviser on economic affairs at the Embassy of the Kingdom of the Netherlands Monika Nikolova. On behalf of the ministry participated the Director of the "Instruments for Economic Growth" Directorate Anna Lyutakova, the Director of the "Policies and Analyzes" Directorate, Mira Yosifova and experts from the Ministry.
The meeting highlighted the traditionally good partnership between the two countries in a number of areas such as economy, education and culture and discussed the possibilities for developing bilateral cooperation in the field of innovation, high technology and development.
Minister Stoycheva emphasized that the government's strategy is to direct investments in high-tech industries and increase economic growth in all regions of the country. "It remains to focus our efforts for development and investments in Northern Bulgaria. Northern Bulgaria will apply with priority under the procedure for the development of industrial zones and parks which the Ministry opened under the Recovery and Resilience Plan for Bulgaria", said the Minister of Innovation and Growth. Minister Stoycheva also highlighted the construction of a hydrogen valley in Stara Zagora. According to her, the support for the faster development of startups is also a priority for the Ministry of Innovation and Growth.
EIPO representatives said that they were impressed by the Sofia Tech Park and the Trakia Economic Zone in Plovdiv, which they visited earlier. "We saw a fantastic ecosystem in Bulgaria with huge potential for development", said the ambassador of the Kingdom of the Netherlands H.E. Simon van der Burg.