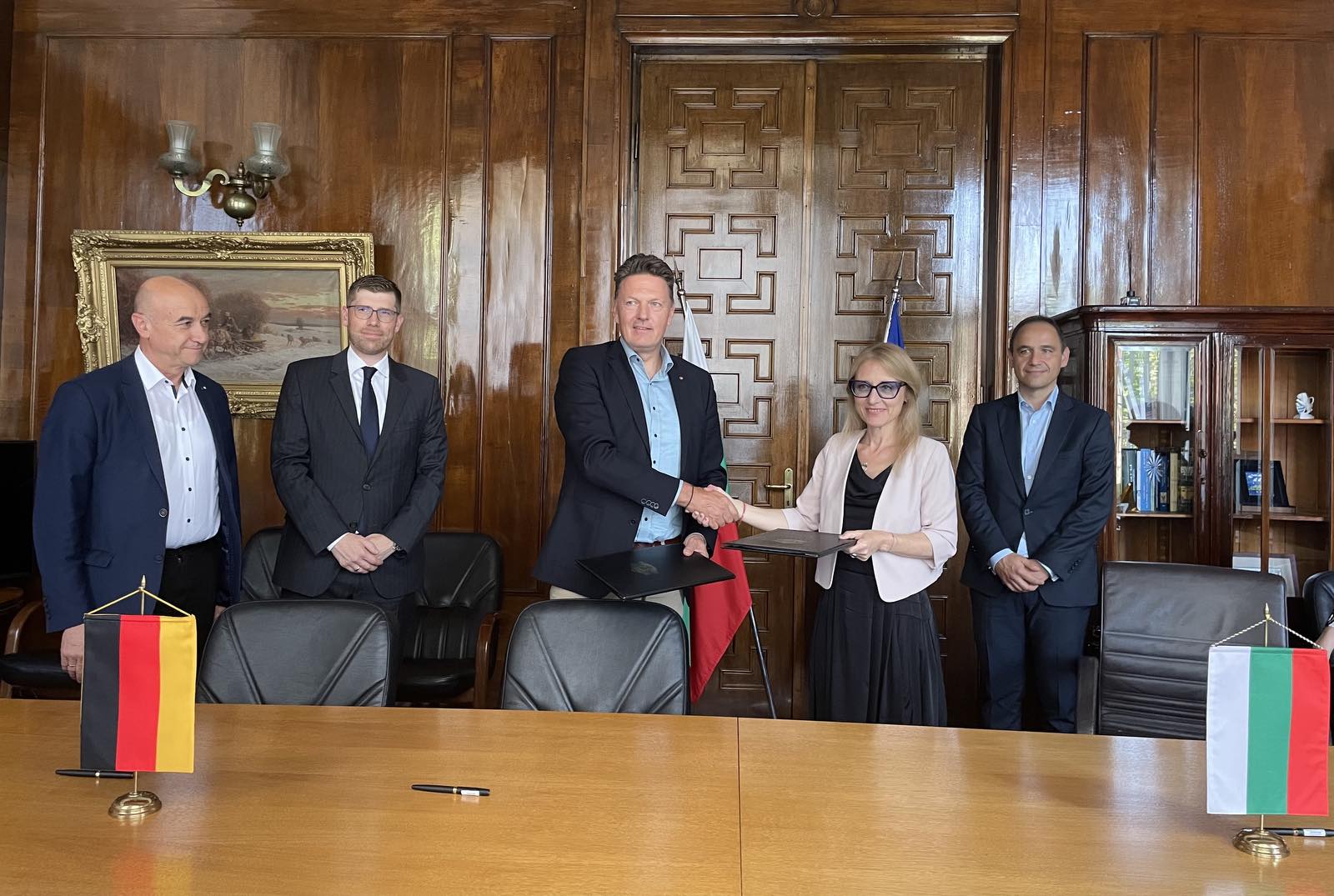 The Ministry of Innovation and Growth and the German-Bulgarian Chamber of Industry and Commerce (GBCIC) will cooperate in the fields of investment, innovation and technology. The partnership agreement was signed today by the Minister of Innovation and Growth Milena Stoycheva, the president of GBCIC Tim Kurth and the general manager of the organization Mitko Vasilev. The ceremony was also attended by the Deputy Minister of Innovation and Growth Martin Gikov and the head of the Economic Department at the Embassy of the Federal Republic of Germany Moritz Seiler.
"This agreement is key for us because it gives us the opportunity to build on and deepen our bilateral partnership. We want to position Bulgaria as a country with deep innovations, a strong entrepreneurial and startup culture, and through investments and commercialization of research and development activities to increase the competitiveness of the economy and all regions in the country," said Minister Stoycheva.
"We all know that without innovation there can be no growth, so we are delighted to be signing an agreement right with the Ministry of Innovation and Growth," said Tim Kurth. On behalf of the Chamber, Mitko Vasilev emphasized that the Ministry of Innovation and Growth is the first of the regular government with which the Chamber signs a partnership document.
The agreement includes cooperation to attract investments in strategic sectors and effective use of opportunities to support investment projects under European Union programs. The opportunities for participation of the Federal Republic of Germany and the Republic of Bulgaria in joint initiatives of the European Commission for the promotion of strategic sectors for the economy of the Union and support for large-scale investment projects are also highlighted.
The Federal Republic of Germany is a strategic partner of Bulgaria and the positive development of bilateral relations is a priority for the Bulgarian side. German companies are key investors in the country, as they are committed for the long term. About 30% of the 100 largest investors in Bulgaria are German or with German participation. 1,500 German companies have created over 35,000 jobs in the country. According to the Investment Promotion Act, 53 investment grade projects with a total value of nearly BGN 4.5 billion have been certified.