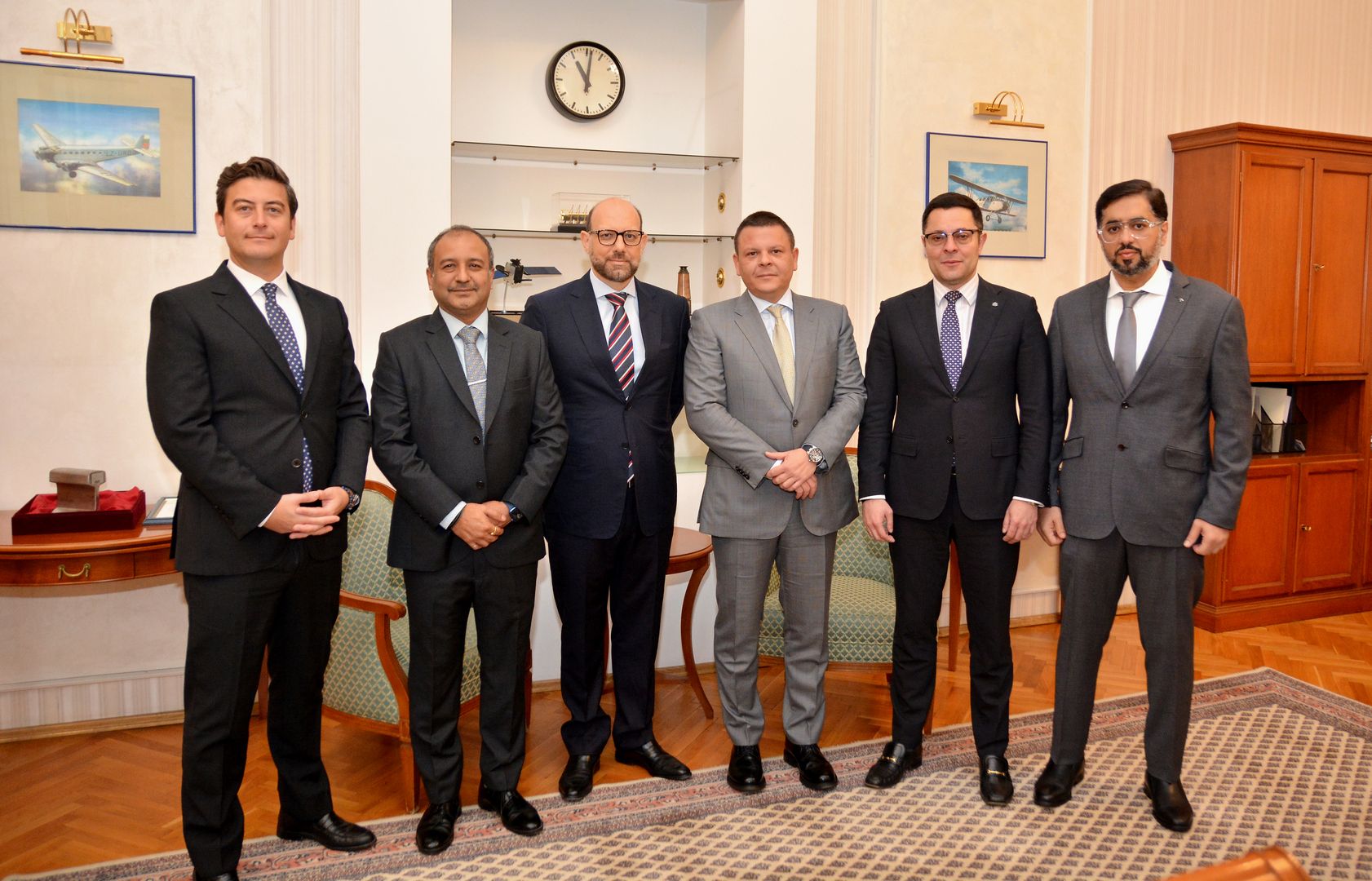 The Ministry of Innovation and Growth is the line ministry for relations with international investors. We are developing the dialogue with the Middle East as a priority. We had successful visits to the United Arab Emirates, under the auspices of President Rumen Radev, to Qatar, Saudi Arabia, Turkey, Israel. I am glad that we are continuing the active dialogue with you on our priority axis – large infrastructure projects in digitization and transport connectivity."
This was stated by the Minister of Innovation and Growth Alexander Poulev during his meeting today with representatives of AD PORTS GROUP. He was invited to the meeting by the Deputy Prime Minister for Economic Policies and Minister of Transport and Communications Hristo Alexiev. AD PORTS GROUP is the largest operator of multifunctional ports in the world and is headquartered in Abu Dhabi, United Arab Emirates. The group also has leading positions in the management of economic zones and digitization processes.
During the meeting, Minister Poulev emphasized that "Bulgaria has significant potential for investments in high technologies, artificial intelligence and carbon-neutral industrial zones. These segments create prerequisites for attracting large productions to Bulgaria, and our efforts are in this direction," he also pointed out.
The minister pointed out that Bulgaria is in the TOP 3 countries with the most and qualified IT specialists per capita and that it is in our country that the largest Institute for Artificial Intelligence and Computer Sciences INSAIT in Eastern Europe is located.
"Our team started the implementation of a comprehensive vision for the industrialization of Bulgaria. We have set up the country's largest specialized industrial zone in the automotive and automotive equipment sector, 15 kilometers from the heart of the capital and close to a skilled workforce. This is only the first stage of our complex strategy to accelerate the development of industrial zones," Poulev added.
In a few days, the Ministry of Innovation and Growth will announce the opening of a large European resource of over BGN 200 million to support industrial parks and zones in our country. "We will single out an entire ecosystem of economic zones that meet the highest standards of investors, both in terms of quality of infrastructure and connectivity, as well as in accordance with the requirements for a "green transition" and carbon neutrality," explained Minister Poulev.
In the person of the largest operator of multifunctional ports in the world, with its leading positions in the management of digitalization and economic zones, AD PORTS GROUP is a strategic partner for Bulgaria. "We believe that this partnership will help us in the development of our two key priorities – transport connectivity and digitalization," concluded Minister Poulev.