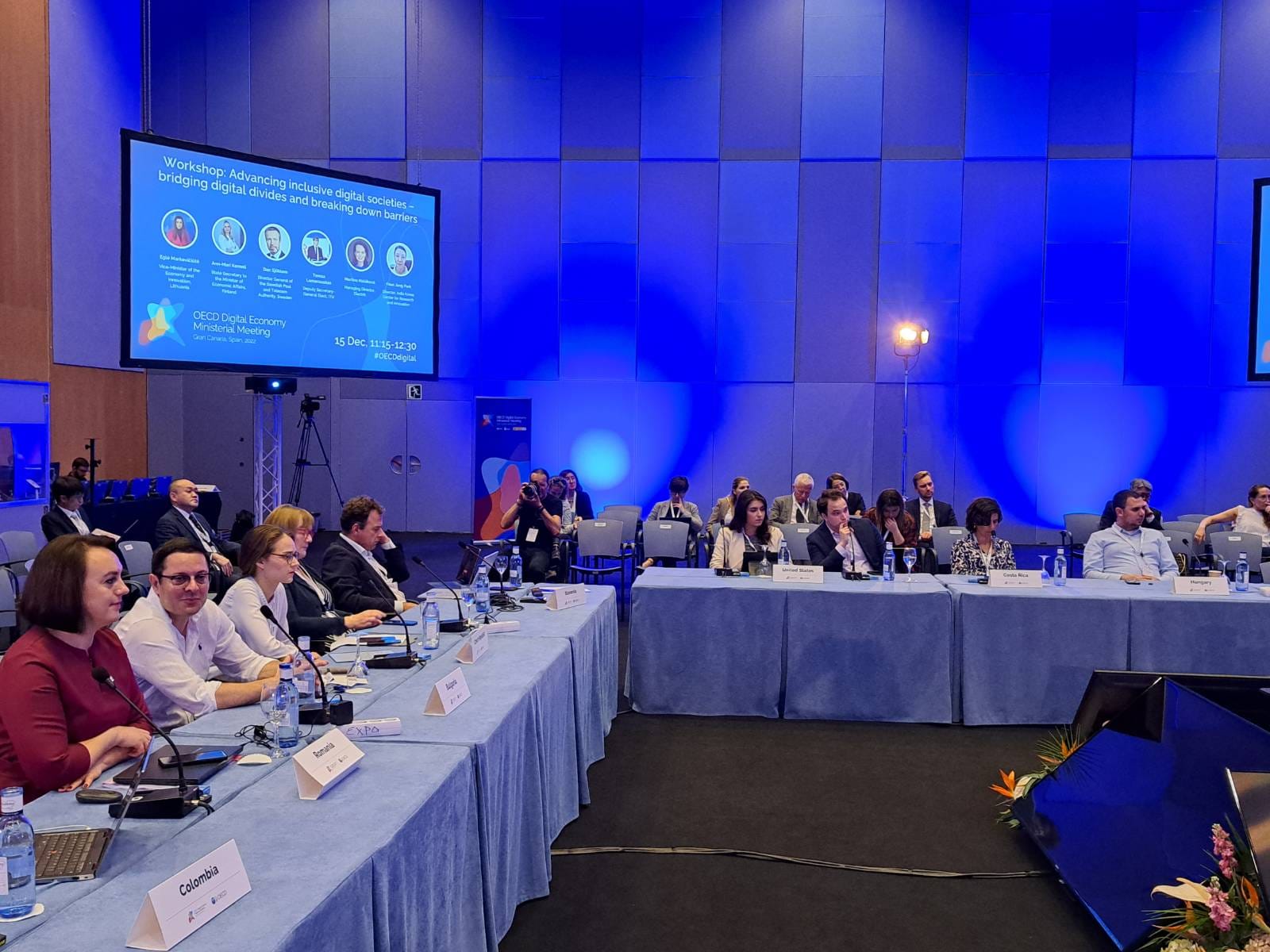 Minister Poulev participated in a meeting of the OECD Committee on the policy in the field of the digital economy
The adoption of the Declaration will show the readiness of Bulgaria to work hard for joining the OECD, which is one of the main goals of the foreign policy of the Republic of Bulgaria. This was stated by the Minister of Innovation and Growth, Alexander Poulev, who participated in the Ministerial Meeting of the Organization for Economic Co-operation and Development (OECD) Committee on Digital Economy Policy, after receiving a personal invitation from the Secretary General of the OECD. The forum takes place in Spain and gathers representatives from over 50 countries.
The declaration recognizes the importance of digitization as a process with profound and transformative impacts on societies and economies, holding enormous potential for achieving social and economic prosperity, well-being and resilience, as well as addressing global challenges such as the climate crisis and pandemic recovery from COVID-19.
Minister Poulev pointed out that with its declared desire to join the OECD, Bulgaria has committed itself to accepting and applying the Organization's standards in every area. The Minister of Innovation and Growth commented that by signing the declaration, a strong political signal is being sent, which will be evaluated by the OECD member states as a convincing proof of Bulgaria's commitment to the principles and values of the Organization.
The adopters of the Declaration commit to work together with all stakeholders to promote a safe, secure, inclusive and sustainable digital environment, supported by an open, global, free, interoperable, reliable, accessible, secure and sustainable Internet, and to respect the supremacy of law, human rights and democratic values to enable economies and societies to prosper.
The session is dedicated to the theme "Stimulating long-term recovery and economic growth by building a reliable, sustainable and inclusive digital future". During the forum, topics were discussed in the field of digital transformation, as well as using the power of artificial intelligence and new technologies.
Minister Poulev also took part in high-level panels related to human-centered digital transformation and human rights, data management for growth and well-being, and strengthening the foundations of digital security for all products and services. Minister Poulev also took part in a working meeting on the topic: "Promoting inclusive digital societies – overcoming the digital divide and removing barriers".
The Bulgarian delegation at the meeting of the OECD Committee was also attended by the Minister of e-Government, Georgi Todorov, the head of the Cabinet of Minister Poulev – Krasimir Yakimov, and experts from the Ministries of Innovation and e-Government.