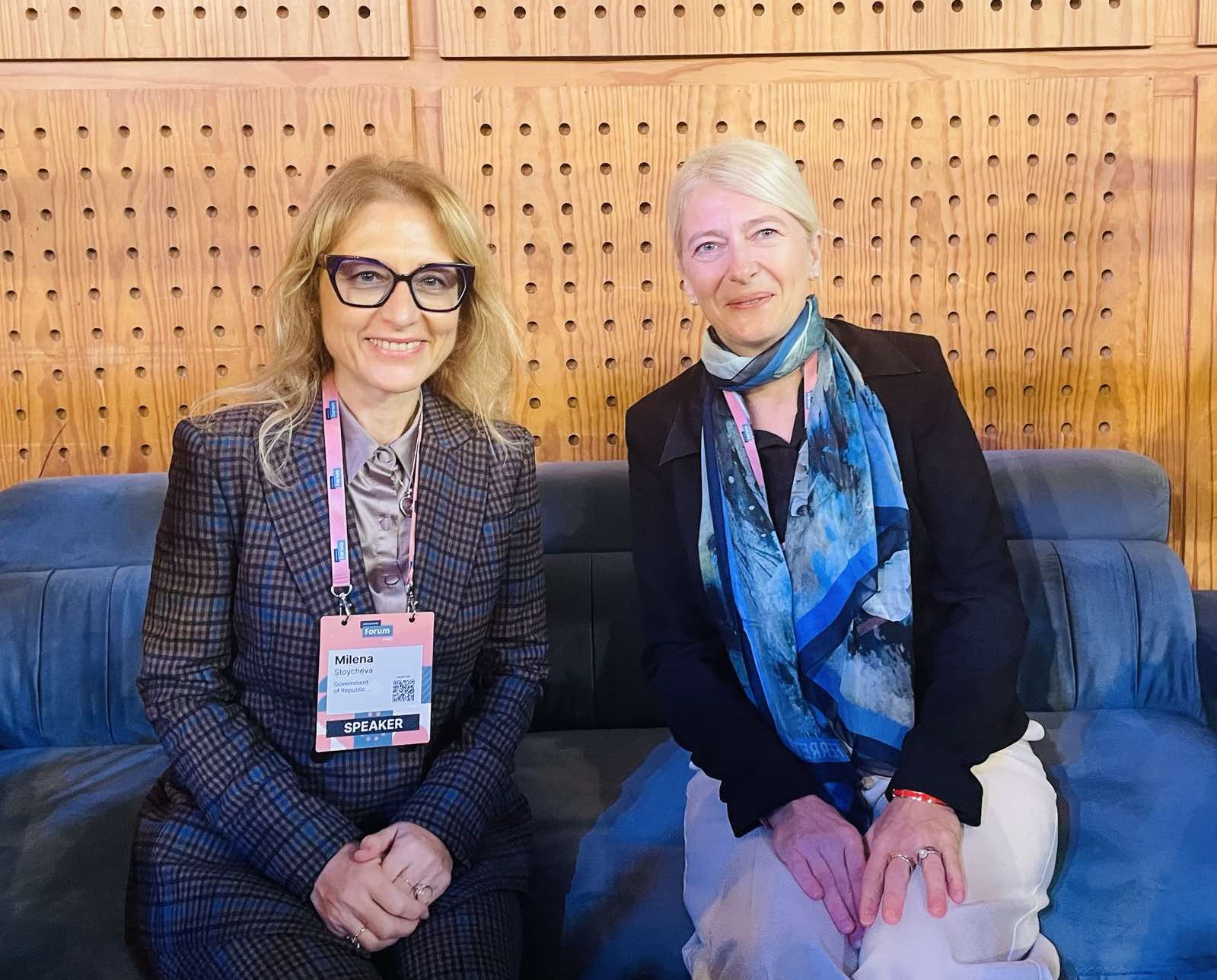 The Minister of Innovation and Growth, Milena Stoycheva, and the Minister of Science, Technological Development and Innovation of Serbia, Jelena Begovic, discussed cooperation to turn the region into an innovation hub. The aim is to strengthen cooperation between the two countries, as well as the region as a whole, in the field of new technologies, digitization and scientific achievements. Stoycheva and Begovich held a work meeting within the framework of the world's largest technological event WEB SUMMIT 2023, in which Minister Stoycheva will participate later in the day in the panel "Leading the Future of Women in Technology". The meeting was also attended by the Deputy Minister of Innovation and Growth, Martin Gikov.
"At the Ministry of Innovation and Growth, we have set ourselves the goal of building a network of innovation valleys in the region to connect in a hub. Thus, the countries of the region will be able to cooperate in the creation, development and implementation of innovations and new technologies", stated Minister Stoycheva during the meeting.
She explained that the Ministry of Innovation and Growth signed a memorandum of cooperation with the Ministry of Innovation in Romania. Minister Stoycheva stated that she intends to sign such agreements with other Balkan countries as well. "Unfortunately, Europe lags behind the US and China when it comes to innovation and technological progress. Uniting us is an opportunity to increase the competitiveness of both each individual country and the continent as a whole," the Minister of Innovation and Growth pointed out.
Stoycheva and Begovic discussed the development of the entrepreneurial and startup ecosystem in Bulgaria and Serbia and in the Balkans. "Research and development activity is the basis for the development of innovations, and companies should be supported to commercialize scientific developments in their activities," Stoycheva said. According to her, the level of education and the capacity of academics is of key importance for the development of innovations and products and services with high added value for the economy. For her part, Minister Begović stated that the focus of the Serbian Ministry of Innovation is the promotion of biotechnology.
The two also commented on opportunities for exchange of experience between Sofia Tech Park and the Science and Technology Park in Nis, as well as cooperation in joint projects and initiatives. They also discussed the visit of a delegation from Serbia to our country.
Minister Stoycheva also introduced her colleague to the financial instruments with which the Ministry of Innovation and Growth supports Bulgarian companies, entrepreneurs and startups through the European programs it manages, the Fund of Funds and the Bulgarian Development Bank.